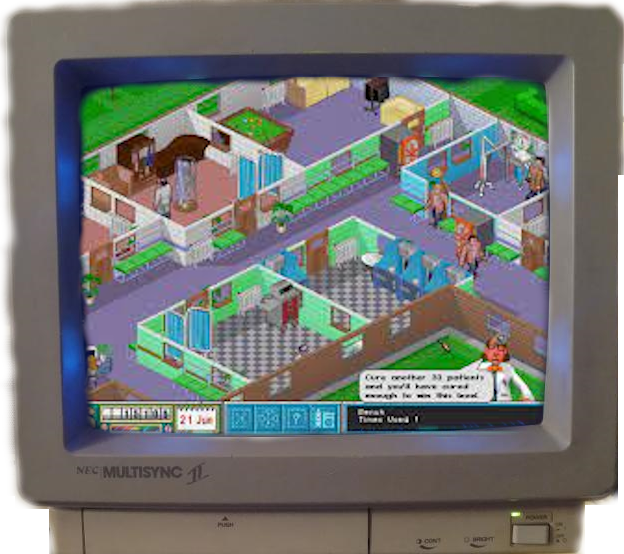 It seems for a time in thelate 1980's and early 1990's, "Edutainment" was a big thing to try and get parents to pay your obtusely overpriced PC games. It had to have educational value. We had Sim City for cities, Sim Earth for planetary function, A-Train for train systems, Sim Farm for Agriculture, Sim Life for evolutioon, Sim Theme Park for running a theme park, and of course.....Theme Hospital for imitating building a hospital.

In Theme Hospital, you take on the job of CEO and House Supervisor as you take control of constructing your own Hospital. Everything from reception, waiting rooms, tenured specialists, the Lab, the ICU, the ER, the Maternity Ward - all of it, you choose where it goes, who staffs it, everything, even the break room and the coffee pot and vending machine that sits in it.

It's one of those DOS games that went under the radar, but is highly underrated. It is ALSO one of those DOS games that I have a deep connection to because...well....I come from a medical family, and this exact game is what I spent the last two months of 2021, and all of 2022 actually doing for a living IRL, at least in some capacity tech wise.
---
Med Techs, Dieticians, I.T., and On Call - My Experiences
---
So I downloaded this because it was on the mobygames database of WSS compatible DOS games for my NEC Versa M/75 laptop, and I was in the middle of LITERALLY helping construct the I.T. Infrastructure of a brand new hospital at the time. So yeah, this is one of the newer ones.

The game opens up with some wacky pixar Doctor with a pull-down chart to use as a game menu, almost bringing me strange vibes of "The 7th Guest". It is one of the most "arcade-like" "sim" titles I've ever seen. Basically, you can start a campaign and once your hospital is successful, you move to another, bigger, fancier hospital to build out. But hey, at least he's not pestering me about how I need more Fiber in my diet, though Dr. Bernard (Chubbyemu) from YouTube would have been more awesome "This man ate theh contents of an Entire Floppy Diskette, and this is what happened to his internal organs. P.B. was admitted to the Emergency Room Presenting with Byte-O-Centisis, Byte as in digital, isis as in blood...".

Each round starts with a pre-defined building in shape and size. You have to put in reception, departments, doctors, offices, break rooms, bathrooms, waiting rooms, the ER, all the other stuff a hospital needs, and then manage it. You can choose the shape and size of the room but you must conform it to the building shell you are building it ino. You also need to buy machines and furnature to carry outu the jobs for the various healthcare workers in your facility. This involves budgeting I think the furthest I ever got was Level 2. I don't play it too much though because it looks too much like what the other 9 hours of my day are....bugging vendors on nequipment that could buy you 2 Bugattis and a tiny island - but the lack of doctors trying to connect their iPhones to the medical device SSID is a nice break.
---
Videos
---
Let's Play Theme Hospital (On the NEC Versa M/75, 2022)