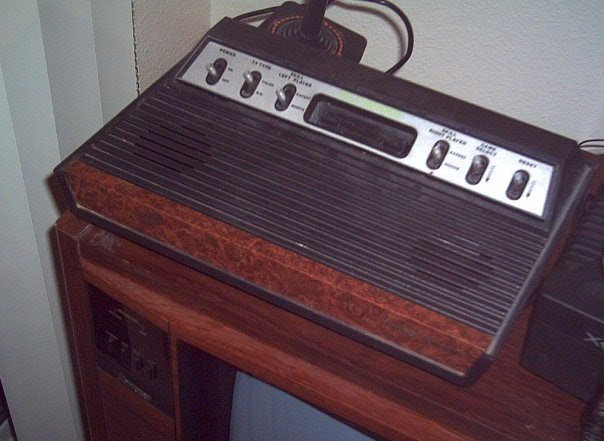 The Atari 2600, while not the first Cartridge based console (that honor belongs to the Zircon Fairchild Channel F), was the console that pretty much solidified this business model and style of gaming in the marketplace for almost 20-30 years before everything was replaced by CD's and then digital transfers.

The Atari 2600 is where I started off playing video games, getting my first (a 4-switch woody) in 1989 when I was seven. The one to the left is the one I currently have now, the Sears Telegames branded version of the "Light Sixer" - which I have owned since 2001 and won for $5 from a glitched E-bay auction that disappeared until the day I won for some crazy reason.

Anyway, I've been collecting for the VCS/2600 since 1995 when I first started getting on the internet via my sister's college computer and bought a 2600JR with Combat and E.T. from a guy. Since then I've learned to fix up consoles, played and collected over 300 titles total (and sold a lot of those). And have a lot of experience in that area.


Currently, I'm more focused on purchasing/collecting the games I want to play rather than being a completist collector. I've found over the years of retrogaming on original hardware that things can get rather cluttered and cumbersome - especially with the Atari 2600. And as you get older, you have less time to be fiddling around with squirrely paddles, beliigerant joysticks, dirty carts, and trying in vein to protect ancient boxes from getting messed up by people who probably don't care or respect your "kid stuff" properly. So you might find later I'll start adding games that are not in my collection, and creating a "Used to Have" or "Emulated" section.

---
MY GAMES COLLECTION
---
Adventure
Asteroids
Astroblast
Berzerk
Crackpots
Cosmic Ark
Defender
Fast Food
Frogger
Haunted House
Keystone Kapers
Lock N' Chase
M*A*S*H
Mario Bros.
Missile Command
Ms. Pac-Man
Night Driver
Pac-Man
Pitfall!
Pitfall II: The Lost Caverns
Pole Position
Robot Tank
Sea Hawk
SeaQuest
Solaris
Space Invaders
Spider Man
Stampede
StarMaster
Super Breakout
Taz
Tron Deadly Discs
Venture
Video Olympics
Video Pinball
Warlords
---
Former Games
---
02 Air-Sea Battle
Artilery Duel
Breakout
01 Combat
Centipede
E.T. The Extra Terrestrial
Joust
Jungle Hunt
Outlaw
Q*Bert
Snoopy Vs. The Red Baron
Star Wars: Return of the Jedi - Death Star Battle
Star Wars: The Arcade Game
Star Wars: The Empire Strikes Back
Star Trek - Strategic Operations Simulator
Vanguard
Yar's Revenge
---
BONUS WRITINGS
---
The 2600 is the Perfect System for Adults with a Life
Why Younger Generations (including my own) Don't "get" the Atari 2600