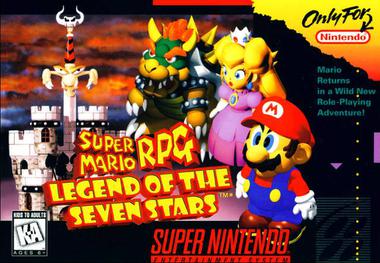 JRPGs, today, they are universally loved by everyone the world over, but in the early 1990's on back, American kids would rather be seen playing with a Hula Hoop than one of these games for "nerds". Need proof? Just go read my page on Dragon Warrior. Don't want to click the link - here's the short of it. In 1986, Enix - in particular Yuji Horii, Akira Toriyama, Koichi Sugiyama, and Chunsoft (Nakamura) created a game that would become the JRPG Archetype - Dragon Quest - one of my personal favorites. It would get localised as Dragon Warrior in 1989, and be such a mondo failure Nintendo had to GIVE AWAY the cartridges with Nintendo Power - as they assumed it'd be a huge hit. Final Fantasy was big, but it still was a "backgrounder" to the Mario Mania going on at the time. Dragon Warrior I-IV did so bad in the USA, Enix withdrew any further titles for 7 years, releasing Dragon Quest V in Japan in 1994. They did still release JRPGs though - Illusion of Gaia. But with the SNES, RPG's started to catch on, and I feel thiss was the Training Wheels of JRPGs getting accepted in America - Super Mario RPG.

Super Mario RPG is a joint effort between Nintendo and Enix to create a mario themed RPG game - honestly, I can't think of anything better.

In Super Mario RPG, the game starts with MArio in the final castle saving the princess. During Bowser and Mario's battle upon chandeliers (all of which you play to get you acquainted with the mechanics), after your battle, you are thrown from the castle, as is Bowser, and when you come back to the castle, there's a giant Sword stuck through the top of it - and nobody knows where the princess is, or if that giant, sentient sword has something to do with her dissappearance. So your quest is find the princes, solve the mystery of the sword, figure out what's causing problems with peoples dreams, and a whole myriad of other side quests. Probably one of the deepest stories and plots a Mario game ever had.

Super Mario RPG has continued to live on as sort of a "Cult classic" after gaining some recognition in the 2000's as a good RPG. I see of it as a good set of training wheels for people who would not normally like RPG's to grasp them. IIRC, I think I played this before I did Dragon Warrior IV, so maybe that had something to do with me getting ino JRPGs.
---
My Later days with the SNES - My Experiences
---
IIRC, I either rented or bought Super Mario RPG rather late in the game, after the SNES was discontinued I think - sometime after 2000 for sure. And I remember getting hardcore into it. I think it was one of the last games I played on my Zenith TV in my childhood bedroom before the TV kicked the bucket.

While the depth of the plot and the detail of the story is engaging, I did always feel it was a bit more "child-like" than the other stuff I play. I mean, Dragon Quest has death, mourning, real drama, hard-left turns, and even some moments that near TEAR JERKER. The Super Mario RPG version of this is characters landing in some strange and hilarious "captive" situation, confusion, drama over inane crap like a wedding dress for a mock wedding, and hard-left turns augmented with a tutorial from Toad. But hey, this was like RPG 101 for kids who were not acquainted with RPGs, just like Dragon Quest was an RPG designed for regular teens and adults who are not acquainted with the massively thick and difficult Western RPGs.